Upcoming Events Around the Diocese
 Together for Life
          Atlanta, Georgia
 

"Let your light so shine before men….and glorify your Father in heaven."  Matthew 5:16
 
            A  March for Life bus trip is planned for Monday, January 23, 2017!  This will be the first pilgrimage sponsored by the Savannah Deanery to Atlanta, Ga, the seat of our State Government, in commemoration of the 44th anniversary of the 1973 Supreme Court decision Roe v. Wade. Nellie Gray organized the first March for Life in Washington in 1974, and every year the number of marches has increased until there are hundreds of such rallies occurring in January all over the country. These gatherings provide a platform for thousands of pro-life leaders, clergy and citizens to speak up for the defenseless, so that one day each may stand before God and say, "I did speak out; I was not silent in the face of the greatest injustice of our day."       
 
            Our pilgrimage will begin in the parking lot off of I16 at Dean Forest and Town Center Rd. Parking will be free.  There will be opportunities for prayer and reflection on the way to our state capitol.  Upon arrival at Christ the King Cathedral, we will attend Mass at 10:00 a.m., take part in a roadside witness along Peachtree outside the cathedral from 11:30-12:00 p.m., enjoy a light reception in the cathedral's Kenny Hall from 12:00-12:30 p.m. and board our bus for return trip by 2:00 p.m. Our arrival time back at the parking lot in Savannah will be approximately 6:00 p.m.
 
Cost of trip:  There will be a small charge of $20.00, payable in advance, to reserve your seat on the deanery bus.  You may pay by cash or check.  If the latter, make check out to the "Savannah Deanery," with a note in the memo line on the check, "March for Life Bus Trip."  Whether you pay by check or cash, please include the reservation form below so that we have your name, address and contact information to confirm your reservation.  All reservations should be submitted to the Cathedral of St. John the Baptist office as soon as possible.  As there are only 60 seats available on our bus, we will develop a wait list if more than 60 people sign up.  Refunds for change of plans will only be made if notification is received by Friday, January 19.   
 
Cost of food and incidentals will be the responsibility of each pilgrim.
 
We look forward to hearing from you soon!
 
Savannah Deanery Respect Life Ministry
(Contact Gretchen Reese at 912-658-3848)
_ _ _ _ _ _ _ _ _ _ _ _ _ _ _ _ _ _ _ _ _ _ _ _ _ _ _ _ _ _ _ _ _ _ _ _ _ _ _ _ _ _ _ _ _ _ _
Complete and mail with deposit to Gretchen Reese, Cathedral of St. John the Baptist, 222 E. Harris St., Savannah GA 31401
2017 March for Life Bus Trip- Cost $20/person
Please print
Name____________________________________   Phone #____________________
 
Address______________________________________________________________
 
# of reservations requested:     ________     Amount enclosed:_________________
 
Additional Names: _______________________________________________

6:00 a.m.             Arrival at parking lot on Dean Forest Rd. (From I16 traveling West, turn left on Dean Forest Rd./Highway 307 South.  At the second light turn left on Town Center Drive into the large, vacant parking area across from the entrance to Southbridge.  Please park on the left side of the lot.)
6:15 a.m.             Departure from Savannah for Atlanta
9:45 a.m.             Arrival at Christ the King Cathedral
10:00 a.m.           Mass
11:30-noon           Prayerful witness on Peachtree Rd.
Noon                    Reception
2:00 p.m.             Departure from Atlanta for Savannah
6:00 p.m.             Approximate arrival time in Savannah
 
Hints and Suggestions:
 Dress comfortably.  Wear walking shoes and layers of clothing to accommodate inside and outside conditions. Depending on the weather, you may need boots, gloves, a hat and/or an umbrella or poncho.  Please limit your belongings to one bag to allow easy loading and unloading. Signs may be transported also.
 On the day of the march, you may buy food at area snack bars or from street vendors, or you may choose to bring your own snacks and a bottle of water.  
Because the ride to Atlanta takes 3-4 hours, you may wish to bring reading material. DVD's of an inspirational and uplifting nature are also welcomed.
---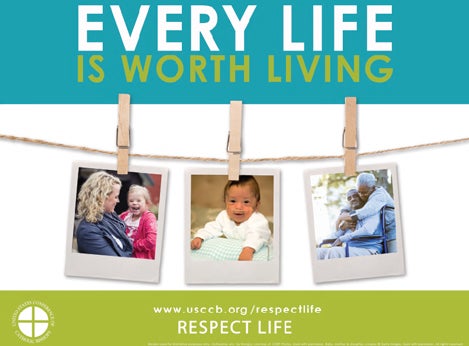 Respect Life Program
The Respect Life Program begins anew each year on Respect Life Sunday, the first Sunday in October. The program is highlighted in liturgies and marked by special events. The USCCB Secretariat for Pro-Life Activities publishes a program packet each year to call attention to numerous human life issues. Each contains information on current issues, program suggestions, liturgy resources and clip art. It may also contain prayers for daily recitation and parish bulletin briefs. Published in booklet format from 1972 through 1992 and in "user-friendly" packet form since 1993, these materials are especially helpful for priests, parish groups, and other organizations. Selected materials from previous years are available through the extensive catalog.   .All materials and information can be found in the Respect Life Catalog on the USCCB website.